Qualified and Experienced Professionals and Efficient Dog Fencing Products and Expertise
Finding A Pet Solution That is Right For Your Dog
---
Freedom & Safety for Your Pet
Pet Stop of Allbreed Hidden Fencing offers professional dog fence installations and Obedience Dog Training. We understand that your pet is unique, and we'll take an individual approach to training your pet to their new fence. We guarantee that your pet will be safely contained, and in the case that they may need more training we'll provide it at no additional cost to you. Be sure to ask about our money back containment guarantee.
Outdoor Systems
We provide installations of outdoor underground fencing system that will not only keep your pet safely contained, but can also keep your pet out of your garden, landscaping, pool or other off-limit zones.
Indoor Solutions
Pet Stop of Allbreed Hidden Fencing brings the benefits of boundary setting indoors, too. Our technology can easily keep kitty off the kitchen counter, the dog out of the litter box or correct any other behavior issues you may be having.
Custom Designs
Pet Stop of Allbreed Hidden Fencing will walk you through the entire process, from picking out which fencing layout best suits you and your property needs, to training your pet to the fence. We want our customers to be experts, just like us!
---
Below are our most popular underground pet fencing layouts, but we can customize the fence boundary layout if necessary – we can also make flower beds, pools, ponds (even streams, lakes and the ocean!) and other landscaping elements off-limits to your pets.
Our most common layout installation is a Full Perimeter loop. This layout gives your pet free range to roam your entire yard but not leave it.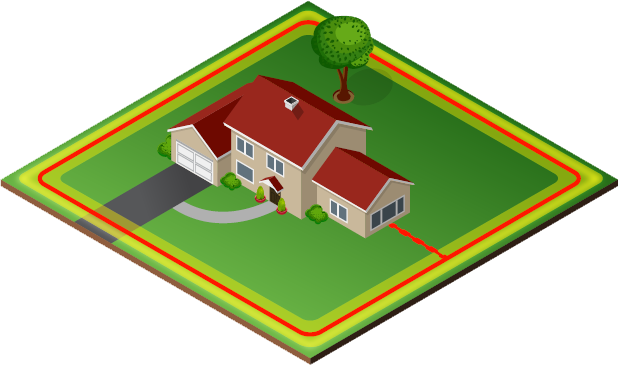 Distance and Signals
The radio waves in the boundary wire can emit a signal up to forty acres. The system contains a three-way antenna that provides 360 degrees of coverage, so even if your dog scratches at the receiver on his collar, the fence itself will remain intact.
To help make your dog aware of his new boundaries, the collar's receiver will cause a minuscule "correction" via radio wave. This is not unlike the TENS machine at your chiropractor, creating a barely perceptible, not unpleasant reminder to remain within the established limits. This tiny pulse lasts just one second, but for the 20% of dogs who are a little friskier (think hunting breeds) it, too can be customized to a slightly longer pulse, to create the desired outcome.
Great Dog Fence Unbelievable Options
Pet Stop of Allbreed Hidden Fencing offers leading-edge, reliable setups to quickly and easily create the best outdoor environment for your dog: the EcoLite, Pet Stop® Link™ EcoLite™, and PCC-200 Pro (A Consumer Digest Best Buy.)  Besides the boundary wire, you will receive an ultra-lightweight receiver for your dog's collar and a signal transmitter, to hang indoors.  Each receiver comes standard with the following features below.
TriScann® multi-directional three-way antenna to guarantee signal reception, regardless of your dog's position
Flash Alert® indicates a low battery charge
Smart Receiver® with Digital Modulation (DM), to help bypass signal interference
Safety Stop® to end correction within 20 seconds, in the unlikely event your pet gets caught and held within range of the signal field
Progressive and Standard Correction modes
In addition to the above, our Eco Lite and Ultra Elite models contain the following:
Stopper™ to allow you to customize a preset series of correction intervals to address escaping behaviors
Edge to Edge ™ allows for maximum roaming in the smallest of enclosures, up to almost the very edge of the area, versus our standard configuration with a 2.5 to 5-foot barrier in front of the edge of the yard
Reliable and secure transmitters
Pet Stop's transmitters feature the following innovations:
Power Loss Memory (PLM) which remembers all your settings in case of a power outage
Wire Break Indicator to let you know before your dog finds out
Lightning Protection and Zapp Alert®, Pet Stop's exclusive alarm to alert you to a surge in the system and possible impairment
StabiliTemp protects your transmitter from temperature extremes that can occur in garages and basements
YardLink™ can link up your yard to your neighbor's and allow open playtime with other dogs while maintaining a safe enclosure for all
Learn More
Pet Stop Products
Get In Touch Today
New York
Genesee County | Niagara County |  Orleans County
---